Back Pain
Are you suffering from back pain? In Tulsa, Oklahoma, we provide long-lasting, cutting-edge regenerative medicine solutions to treat your chronic back and spine pain. Typical pain medication only masks your symptoms. Surgery can be costly and comes with the risk of you developing complications. Regenerative cell therapies provide you with the pain relief you've been searching for with all-natural, minimally invasive procedures.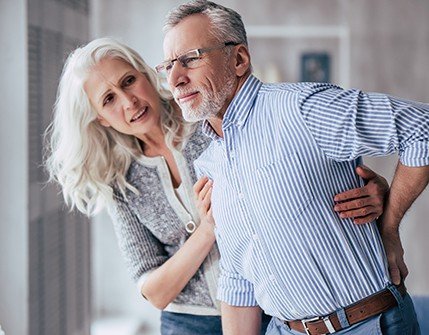 Lower Back Pain Relief
Our lower back pain doctor is experienced in treating a range of conditions that may cause acute or chronic pain to ensure you live a quality life. By pinpointing the precise source of your discomfort, we are able to offer all-natural pain relief treatment to help you heal or eliminate back issues.
Whether you are recovering from surgery or have been dealing with lower spine pain for years, such as from a herniated disc, we can help.
Our natural treatments include:
Injections containing mesenchymal stem cells and other growth factors – Read on below for more information.
Platelet-rich plasma therapy – Our medical team takes a sample of your blood and extracts a high volume of platelets. Your platelets are part of your healing process regularly, and when injected in such a high amount, they can help repair back issues faster.
Chiropractic care – Our chiropractor will examine your body to uncover the underlying cause of your pain. They will then suggest an adjustment, exercises, and lifestyle changes that can help you recover.
Laser therapy – By exposing your back to safe levels of light energy, we can help soothe inflammation and stimulate healing responses.
Back Treatments Containing Stem Cells for Pain
Stem cells are specialized cells that have the potential to develop into many different cell types in your body. Stem cells act as your body's internal repair system and can potentially replicate into other types of cells.
Our regenerative medicine therapy uses injections containing stem cells and other growth factors derived from Wharton's jelly. This bioactive birth tissue is a rich source of growth factors, healing proteins, and mesenchymal stem cells that can grow into bone, cartilage, and other types of tissues needed for your back to function normally. These treatments work to repair the damaged cells that are causing your inflammation and back problems.
Treatments containing stem cells are sourced from reputable tissue banks that collect birth tissue from healthy mothers during cesarean sections.
Causes of Pain In Back
Most incidences of chronic back pain are centered around the lower back. Your lumbar spine supports the weight of the upper body, making it susceptible to stress, strain, and overuse.
Common causes of lower back pain include:
Degenerative discs
Herniated discs
Disc tear
Spinal stenosis
Scoliosis
Poor posture
And more
Back pain can be caused by many other factors as well, such as sports, workplace, and auto accident injuries, or even overuse. Whatever your pain, and wherever it originates, we want to help!
We regularly use regenerative medicine as an effective back treatment. Our doctor is dedicated to improving your health using the safest and most advanced treatments available today. If you are searching for a more natural solution to your back pain in Tulsa, Sapulpa, or any nearby city in Oklahoma so that you can avoid medication and surgery, we recommend that you schedule an appointment at our regenerative medicine practice to discuss your specific symptoms and treatment options. Call us today (918) 224-0546.