Regenerative Cellular Tissue
Treatments containing regenerative cellular tissue are a modern approach to addressing musculoskeletal disorders and pain conditions. Our clinic in Tulsa, Oklahoma offers non-surgical pain relief treatments containing growth factors, and mesenchymal stem cells that regenerate cells your body needs to heal diseases, injuries, and other disorders.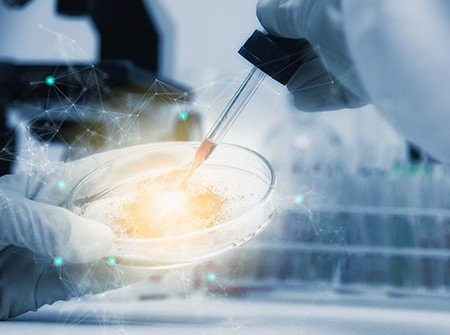 What Are Stem Cells?
Stem cells are at work in places throughout your body. They divide and create new cells to replace damaged cells, regenerating and repairing worn tissues when you're injured or sick.
Depending on the area of your body that's damaged, stem cells adapt, becoming specialized as muscle, cartilage, tendons, bone, or other tissues.
With their self-renewing properties, stem cells are being used to repair a seemingly endless list of musculoskeletal and other conditions. The practice of using stem cells or regenerative cellular tissue is often referred to as stem cell therapy, but there's a difference.
Types of Stem Cells
Adipose tissue-derived stem cells are taken from fat tissue while the patient is under local anesthetic. The cells are collected in a liposuction procedure, removing fat from under the skin. There maybe a drawback to adipose tissue stem cell therapy. Toxins are stored in fat tissue, so this therapy is potentially transferring those toxins to other areas of your body that are already compromised by injury or disease. Furthermore, your own stem cells have aged with you, and age could impact the effectiveness of the treatment.
Bone marrow stem cell therapy involves an invasive and painful collection procedure called bone marrow aspiration. A small hole is drilled into your hip bone, and a large needle is used to extract the cells. This surgery opens you up to infection, and these cells have also aged with you.
Our treatment is called regenerative medicine, and we use mesenchymal stem cells.
Regeneration Using Treatments Containing Stem Cells and Other Growth Factors
Regenerative cellular therapy and the treatment preferred by our doctor uses Wharton's jelly-derived mesenchymal stem cells. These cells come from birth tissue sourced from reputable tissue banks. Our treatments containing stem cells and other growth factors are rich in cytokines, growth factors, mesenchymal stem cells, collagens, proteins, and peptides.
These growth factors are essential for the growth of the baby in the womb and can potentially accelerate cell growth in your damaged joints. These growth factors naturally help the damaged tissues at the site of a swollen area to recover by growing new cells.
Growth factors also activate your body's stem cells to come into the area for repair. Regenerative cellular tissue treatments repair cartilage, tendons, and other tissues.
Treatments containing growth factors and stem cells have been shown to be effective in treating the following conditions:
Joint pain
Back pain
Neck pain
Knee pain
Shoulder pain
Sciatica
Neuropathy
Modern medical breakthroughs can allow you to augment your body's natural healing abilities to repair and heal damaged tissue. We utilize regenerative medicine in Tulsa, Sapulpa, and nearby cities in Oklahoma in order to tackle the root cause of your pain, instead of masking your symptoms with anti-inflammatory drugs and prescription pain medicine.
We provide you with safe, effective options for all-natural pain relief to help you avoid surgery and its associated complications. To learn more about how we do this, contact us at (918) 224-0546 to schedule a consultation.